"I will continue singing until my last breath" – says Wilfy Rebimbus
Honour for daijidubai.com
"I will continue singing until my last breath" said 'Konkann Kogull' Wilfy Rebimbus on receiving an appreciation award from Mangalore Konkans during a 'Wilfy Nite' musical extravaganza at Al Nasr Leisureland on October the 11th in front of a packed audience. "The announcement to say it is my last show in Dubai was made in an entirely different context considering the present nite form. It does not mean that I will stop singing. An artiste cannot say this. As long as konkani people are with me these shows either in this current nite form or altogether in a different form, will continue" he further clarified referring the news appeared in daijidubai.com and other print media. The felicitation function was organised to honour the great konkanni artist who is into konkanni music for almost 42 years now.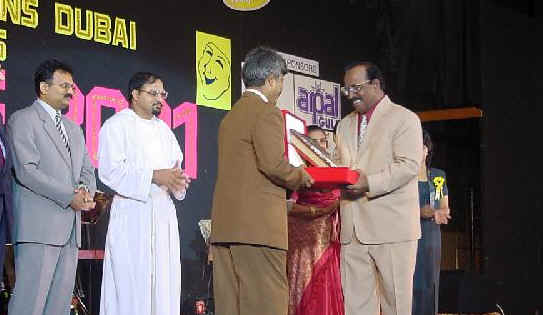 Mr. Valerian Peris President of Mangalore Konkans presenting Memento to Wilfy.
The sponsors and Co-Sponsors of the show were also felicitated during the occasion. Surprisingly, Mr. Walter Nandalike – the web master of daijidubai.com was also called on to the stage. He was honoured for his great contribution to konkanni through the electronic media and for bringing together all konkanni people dispersed around the world, under one umbrella. Representatives of Sponsor and Co-Sponsors, Wilfy Rebimbus, Meena Rebimbus, Fr. Cyprian D'Souza – Assistant Parish Priest of Dubai St. Mary's Church, Walter Nandalike, Mr. Valerian Peris - the President of 'Mangalore Konkans' & Vice President were on the dais. Wilfy's 33rd musical album was released by Fr. Cyprian D'Souza on this occasion.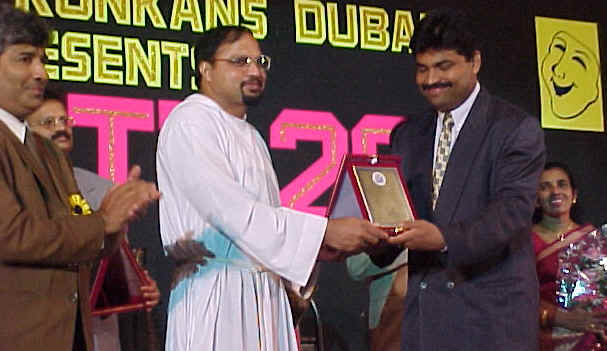 Mr. Walter Nandalike receiving Memento from Fr. Cyprian
It was a memorable evening with Wilfy and his group – Meena, Vishwas, Prem Kumar, Sandria and Claud D'Souza - singing some of the old as well as new numbers. He sang the popular song 'Philomena' twice on repeated requests from the audience, which touched many young and broken hearts. 'Sureachim Kirnam' sung by Vishwas, apart from the melody, talked about the poet in Wilfy. Meena's song on the subject 'time' talked about philosophy and advised people to stick to time.
The dances added more glamour to the show. Sudhi and Jyoti's dance for the song 'Singari' was well appreciated by the crowd. The dances by Deepak were choreographed very well and succeeded in depicting the true meaning of the songs.
'Phokanam' by Dolla, Claudy and their group brought in hilarity among the audience. Dolla's acting once again talked about the great talents (including some magical tricks) of this great stage artiste. Above all, a new face - Mr. Prem Alvares (son of konkanni literateur Mr. Victor Alvares), showed that he has got lot of potential in him to become a great performer of the stage very soon.
The entire show was compered very well by Mr. Manohar Pais. His efforts to make the show more lively is commendable.
MR for daijidubai.com
Click Here for Wilfy Nite Dubai photo Album
Photographs by Thomas, Kanajar & MR