`Bayya Mallige' A Sumptuous Konkanni – Tulu Musical Concert in Dubai Relished to Hearts of Many
The one of its kind, uniquely designed `Bayya Mallige', a Konkanni-tulu musical entertainment programme took place at the Al Nasr Leisureland, Ice Rink on the 4th of October 2001. Over a thousand audiences were enthralled to the tunes of Polka and Baila.
The Musical team of Leslie D'Cunha, Shobana, Riyaz, Marie, Robert Veigas and Rony Veigas delivered a live performance of popular songs chosen from Konkanni, Tulu, Kannada and Hindi to the constant applauds of the audience.
Francis Fernandes Cascia with, Dian D'Souza, Veronica, Janette, Paul Almeida and Alwyn Pinto played out hilarious bursts of skits to merry the gathering.
Several rounds of traditional and western dance sequences were presented by Boniface Carlo with his dance team to the wide admiration of the gathered.
The Bayya Mallige programme was jointly mastered by Hemacharya and Walter Nandalike who uniquely presented the function to befit the theme of the evening.
Shri George Fernandes who was to grace the occasion had to cancel his visit to Dubai at the last moment, due to the prevailing international situation. Though the Organisers published this information on leading newspapers, the uninformed though sadly regretful audience, on course of the event, gave their participative support to make it an enjoyable evening.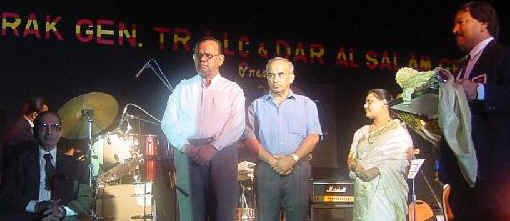 A long time resident of Dubai, a veteran businessman and industrialist, a senior citizen hailing from South Kanara, Sri M. M. Rai was felicitated during the occasion with traditional ceremonies. The programme sponsors Mr. M. A. Latif and Ashok Shetty, Smt. Latif, Smt. Bharati of Rhushi Sanskriti Vidhya Kendra Mangalore, well wisher and veteran businessman Mr. Bernard Vas were present on dias during the felicitation ceremony.
At the commencement of the programme, Mr. Prasad of Rhushi Sanskriti Vidhya Kendra wished for the programme success while Umesh Nantoor briefly explained the theme of `Bayya Mallige' to the audience. (Click here for more Photographs)
Photographs: MR & Thomas Saldanha
(News: VT, Dubai)